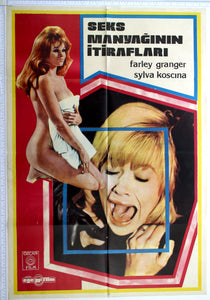 Horror Poster Emporium
So Sweet, So Dead (1972) Turkish 1 Sheet
Regular price
£35.00
£0.00
Tax included.
In classic Turkish poster style, they utilise Judy Geeson's terror pose from Fear in the Night (also 1972) for added impact. A serial killer (with trademark black hat and gloves) leaves compromising photos with his victims - all wives who have been unfaithful. The film gleefully stages their mostly nude death scenes, while happily ignoring the fact that most of the male cast are just as unfaithful. A re-edited version with hardcore inserts was blocked in the US after Granger rightly protested, although it played in Europe.

Directed by journeyman Roberto Montero, who'd been working since the mid-40s. In Italian style, he worked in every genre, even a stint as a mondo man in the 60s, with Mondo Infame, Africa Sexy and Sexy Nudo (all 1963). Inevitably, he ended up making sex films, Caligula Erotica (1977), Erotic Flash (1981) and The Secret Nights of Lucrezia Borgia (1982) with Sirpa Lane. 

 Aka: The Slasher... is the Sex Maniac!, Bad Girls, Penetration (re-edit 1975)

Condition: GOOD / VERY GOOD

Cast: Farley Granger, Sylva Koscina, Silvano Tranquilli and roving US actress Jessica Dublin, who started in Fellini Satyricon (1969) and went on to Fragment of Fear (1970), Land of the Minotaur (1976), the infamous Island of Death (1976) and parts II and III of The Toxic Avenger saga (both 1989).
---