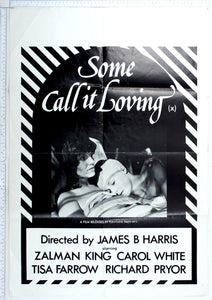 Horror Poster Emporium
Some Call it Loving (1973) UK Special Poster #New
Regular price
£45.00
£0.00
Tax included.
Distributed by Pleasant Pastures (their only other film The London Rock and Roll Show the same year) this 22" x 32" poster seems to be a cinema club special. Some Call it Loving was considerably better received in Europe than the States, with its perverse take on the Sleeping Beauty legend, and the ensuing psycho-drama when the 'princess' is awakened. Maverick writer / director James B. Harris was Kubrick's producer on The Killing (1956), Paths of Glory (1957) and Lolita (1962). Harris went on to direct the provocative crime classics Fast-Walking (1982) and Cop (1988), both with James Woods.

Condition: GOOD - Creases on glossy paper stock.
Cast: Zalman King, Carol White, Tisa Farrow, Richard Pryor, Pat Priest.
---