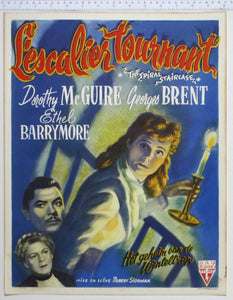 Horror Poster Emporium
Spiral Staircase (1946 R47) Belgian Poster
Regular price
$122.00
$0.00
Tax included.
Robert Siodmak continues Hollywood's assault on the 'afflicted' being suitably marked for death. The previous year, hunchbacked nurse Jane Adams, the only sympathetic character in House of Dracula (1945) is unceremoniously hurled down a trapdoor in the all-out climax. Presumably because they couldn't think of any other fate. The Spiral Staircase has a serial killer pursue women, blind, crippled, and in Dorothy McGuire's case, mute. However, Siodmak's artful blend of horror and film noir tropes, plus an unusual POV camera as the killer stalks his victims, and closeup details hiding his identity - shots of feet and hands, or a wild staring eye - makes this a proto-slasher, and it's influence can be felt particularly in Italy's giallos.

Being an RKO production, house talent was brought in, borrowed from Val Lewton's B Unit. Eerily photographed by Nicholas Musuraca, who made five films for Lewton, from Cat People (1942) to Bedlam (1946), Music by Roy Webb and Art Direction by Albert D'Agostino (who both worked on nearly every Lewton film). As always with this extraordinary team, the visuals and atmosphere are impeccable.
Condition: GOOD / FINE - Trimmed at top, slight staining to extreme edges and stain to bottom right border.
Cast: Dorothy McGuire, George Brent, Ethel Barrymore, Kent Smith, Rhonda Fleming, Elsa Lanchester
---