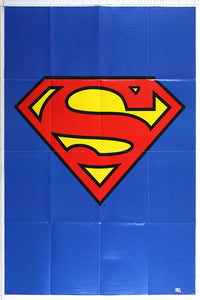 Horror Poster Emporium
Superman II (1980 - 2001RR) UK Double Crown Poster #New
Regular price
£35.00
£0.00
Tax included.
Issued to celebrate the DVD release of Superman II in 2001, when the fans were still waiting for Richard Donner's more sombre original cut, and having to make do with the cartoony compositions of Richard Lester. With one director's work grafted onto another's, it's these tonal jumps that grate, and the myriad additions and subtractions, for TV and theatrical releases, mean almost no territory remembers it quite the same way.
Gene Hackman, Ned Beatty, Valerie Perrine and E.G. Marshall didn't return for Lester's reshoots, so their scenes are all Donner's. But Lester had some great comic touches, visual and verbal, such as the onlooker saying (after he rescues a boy from Niagara Falls) 'Such a nice man. Of course, he's Jewish'.
Condition: FINE - pinholes at corners, folds on glossy paper stock.

Cast: Chritopher Reeve, Margot Kidder, Sarah Douglas, Terence Stamp, Jack O'Halloran, Susannah York, Jackie Cooper, Marc McClure.
---