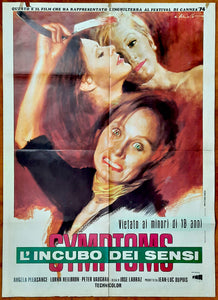 Horror Poster Emporium
Symptoms (1974) Italian 2 Foglio #New
Regular price
£95.00
£0.00
Tax included.
A very rare Italian poster for José Ramón Larraz's claustrophobic masterpiece. As the legend across the top states, this was 'the film which represented England at the Cannes Film Festival 1974' and caused a lot of fuss in the process, being a low budget horror written and directed by a Spaniard. Hugely helped with John Scott's haunting score - he started with 1965's A Study in Terror, and went on to score Berserk! (1967), Trog (1970), Wake in Fright (1971), Satan's Slave (1976), Inseminoid (1981) and Yor: The Hunter from the Future (1983) amongst many other bigger budgeted films.

Larraz orginally wanted Jean Seberg for the lead role, and actresses from Candace Glendenning, Lynne Frederick, Judy Matheson and Lalla Ward to Olivia Hussey, Helen Mirren and Mia Farrow were considered, before the part fell to a career best performance from Angela Pleasence.

Artist: Averardo Ciriello
Condition: VERY GOOD - Tape burn and small paper loss top border, minor dinks bottom edge.
Cast: Angela Pleasence (spelt Pleasance on the poster), Lorna Helibron, Poter Vaughan, Raymond Huntley, Nancy Nevinson
---