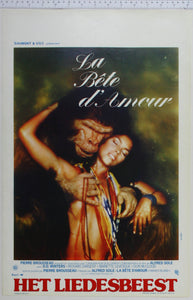 Horror Poster Emporium
Tanya's Island (1980) Belgian Poster
Regular price
£35.00
£0.00
Tax included.
Here credited as D D Winters, it's actually Vanity, singer and actress turned evangelical. She made Terror Train the same year, and is fondly remembered for The Last Dragon (1985) and Action Jackson (1988) with Carl Weathers. Tanya's Island centres around a model with a violent boyfriend, a surrealist artist. To escape his abuse, she dreams of a deserted island, where she's joined by a strange man-ape, depicted in her boyfriend's work. Jealously and madness ensue.

Director Alfred Sole started in the porn business with Deep Sleep (1972), a film that was pulled from cinemas under obscenity charges and all prints seized. Communion (1976) came next, but apart from 1982's slasher parody Pandemonium, he gave up directing and became a well-regarded production designer instead. And the ape? You don't get work this good unless it's by the best - Rick Baker and Rob Bottin of course.

Aka: La bête de l'amour
Condition:VERY FINE / NEAR MINT

Cast: Vanity, Richard Sarent, Mariette Lévesque, with Don McLeod as the ape 'Blue' - also played the werewolf killer in The Howling (1981) and the gorilla in The Man With Two Brains (1983), with Donny Burns providing it's voice.
---