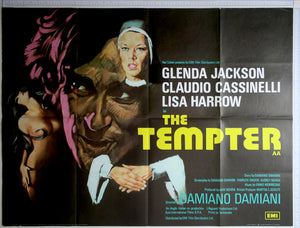 Horror Poster Emporium
Tempter (1974) UK Quad Poster
Regular price
£45.00
£0.00
Tax included.
Nunsploitation of a Mother Superior kind. Glenda Jackson stars as the head of a religious asylum / hotel for penitents, keeping the assorted exiles, nymphomaniacs, apostates, collaborators and agnostics in check with an iron hand. Director Damiano Damiani came into prominence with his excellent western A Bullet for the General (1967), and later made the brutal Amityville Horror II: The Possession (1982), and although The Tempter is a drama, it certainly maintains a horror film atmosphere, aided by a disturbing score from Ennio Morricone.

Aka: Il sorriso del grande tentatore, The Devil Is a Woman n.b. NOT L'Anticristo from the same year

Artist: Arnaldo Putzu
Condition: VERY FINE / NEAR MINT
Cast: Glenda Jackson, Lisa Harrow, Claudio Cassinelli, who followed this with Flavia the Heretic and What Have They Done To Your Daughters? (both 1974) and was the bad guy in Slave of the Cannibal God (1978), Adolfo Celi, Gabriele Lavia - The Devil Within Her (1974), and playing 'Carlo' in both Deep Red (1975) and Inferno (1980) for Dario Argento.

---