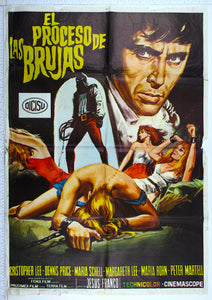 Horror Poster Emporium
Bloody Judge (1970) - Spanish 1 Sheet #New
Regular price
£25.00
£0.00
Tax included.
 Christopher Lee plays Judge Jeffries, a historical figure associated with the 'Bloody Assizes', where he condemned 150 captured rebels to death for their part in Monmouth's failed rebellion of 1685. Here, he becomes a witchfinder who abuses his position for gain and sexual favours. Despite copious scenes of nudity and torture it's one of Jess Franco's best films in terms of character and plot, and sits at the heart of the 10 films he made with producer Harry Alan Towers between 1968 and 1970.
Although the poster prematurely credits Dennis Price, he became too ill to work on the film, and his part was finally played by Leo Genn.
Aka: Night of the Blood Monster / Witch Killer of Broadmoor
Condition: FAIR - Multiple edge dinks and paper loss centre edge L&R, wrinkling across bottom and top panels.
Cast: Christopher Lee, Maria Schell, Leo Genn, Hans Hass, Maria Rohm, Margaret Lee, Howard Vernon
---