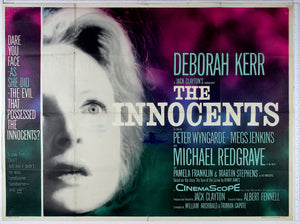 Horror Poster Emporium
Innocents (1961) UK Quad Poster
Regular price
£65.00
£0.00
Tax included.
Jack Clayton's supernatural masterpiece, with some of the finest black and white photography since Citizen Kane by Freddie Francis, and a telling script from Henry James' novel by John Mortimer. The tiny cast maintains a claustrophobic, fetid atmosphere, as Deborah Kerr unleashes dormant passions and terrors… Michael Redgrave, Pamela Franklin and Martin Stephens as the children and ever-dependable Megs Jenkins as the housekeeper.
The ghosts were played by Peter Wyngarde and Clytie Jessop (who also appeared as the figure of Atropos in Torture Garden) often only glimpsed in long shot, and all the more disturbing because of it. Hard to overestimate the influence this film has exerted over the ghost film genre.
Artist: Tom Chantrell
Condition: FAIR / GOOD - Small fold spilts top and bottom, pinholes and scuffs top corners, paper loss at quarter fold joins left hand side, certificate inked out centre, with slight ink transfer to Kerr's cheek.

---