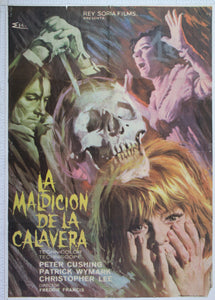 Horror Poster Emporium
Skull (1965) Spanish 1 Sheet Poster #New
Regular price
£65.00
£0.00
Tax included.
After a graverobber severs the head of the Marquis de Sade, he meets a sudden death - Indeed, through the years, under its satanic influence, all those who possess the skull are driven to murder, madness and death. This was Amicus Film's determined attempt to take on the House of Hammer, and with some of Freddie Francis's most innovative visual ideas (which he would pilfer for the rest of his career) it remains the best of Amicus's standalone horrors. Francis disingenuously claimed that he had to write the entire script over again, but with Subotsky and Robert Bloch on board, and a near silent final 25 minutes, it seems unlikely.

Aka: La Maldicion de la Calavera, Le crâne maléfique (retitled from Les forfaits du marquis de Sade after the de Sade family complained)

Condition: VERY GOOD - Paper loss bottom right corner, minor dinks top edge, small paper loss / tear below 'Lee'.
Cast: Peter Cushing, Patrick Wymark, Christopher Lee, Jill Bennett, Nigel Green, Patrick Magee - who was to play the Marquis in Marat/Sade (1967), Bert Travers, Michael Gough, George Coulouris, April Olrich
---