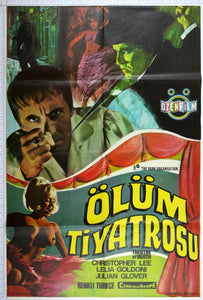 Horror Poster Emporium
Theatre of Death (1967) Turkish 1 Sheet
Regular price
£45.00
£0.00
Tax included.
History doesn't tell us what J Arthur Rank thought about his name and logo alongside a topless girl (cold in that theatre!), but as a devout methodist, it's unlikely he approved. It's a film that's been overshadowed by Hammer's output from the same era, but it has excellent performances from Lee and Lelia Goldoni, whose first major film was John Cassavetes' Shadows (1958), with Hysteria (1965), Alice Doesn't Live Here Anymore (1974), The Day of the Locust (1975) and Kaufman's Invasion of the Body Snatchers (1978). 
Director Samuel Gallu was usually in the producer's chair, but he created a stylish Grande Guignol horror, where the staged horrors seem to be linked to a series of brutal murders. A police surgeon starts to investigate. It's beautifully lit and shot by Gilbert Taylor whose black and white work ranged from Ice Cold in Alex (1957) to Dr. Strangelove (1964) and Cul-de-Sac (1966), and colour photography from the grim Before Winter Comes (1968), Frenzy (1972), The Omen (1976) and Star Wars: Episode IV - A New Hope (1977).
 Aka: Blood Fiend

Artist: Based on artwork by Renato Fratini
Condition: VERY GOOD / FINE
Cast: Christopher Lee, Julian Glover, Lelia Goldoni, Jenny Till, Ivor Dean - The Oblong Box (1969), Dr Jekyll and Sister Hyde (1971), Evelyn Laye - principally a stage actress, but in films from 1927 and a 60 year career.
---