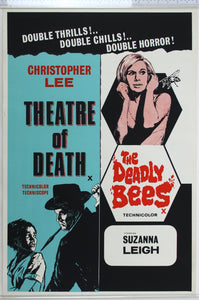 Horror Poster Emporium
Theatre of Death / The Deadly Bees (1967 / 1966) UK Double Crown DB Poster
Regular price
£65.00
£0.00
Tax included.
Director Samuel Gallu was usually in the producer's chair, but with Theatre of Death, he created a stylish Grande Guignol horror, where the staged horrors seem to be linked to a series of brutal murders. A police surgeon starts to investigate. It's beautifully lit and shot by Gilbert Taylor whose colour photography ranged from the grim Before Winter Comes (1968), Frenzy (1972), The Omen (1976) and Star Wars: Episode IV - A New Hope (1977).
The Deadly Bees is the last thing exhausted pop singer Vicki wanted as a rest cure, but that's what she got. A pedestrian Freddie Francis film, who visual inventiveness rarely appeared when he didn't have a budget. The lively (and absurd) script was from Robert Bloch and Anthony Marriot, whose main claim to fame prior to this was numerous episodes of Gerry Anderson's Fireball XL5 (1962-1963). He finally found fame and fortune when he wrote the long-running stage farce (and later screenplay) for No Sex Please - We're British (1973).
 Condition: VERY FINE
 Cast: Christopher Lee, Julian Glover, Lelia Goldoni, Jenny Till, Ivor Dean - The Oblong Box (1969), Dr Jekyll and Sister Hyde (1971), Evelyn Laye / Suzanna Leigh, who was given several chances for stardom that never ignited - The Lost Continent (1968), Lust for a Vampire (1971), The Fiend (1972), even returning for Francis's Son of Dracula (1973) with Ringo Starr, Frank Finlay, Michael Ripper, James Cossins, Guy Doleman, Catherine Finn.

---