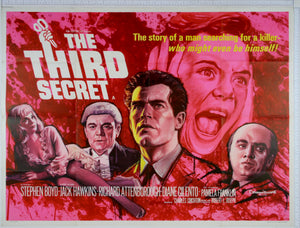 Horror Poster Emporium
Third Secret (1964) UK Quad Poster
Regular price
£125.00
£0.00
Tax included.
Despite the star power of the supporting cast - Richard Attenborough, Jack Hawkins and Diane Cilento, it's the relationship between Stephen Boyd and Pamela Franklin that's at the core of the film. Giving a performance beyond her years, Franklin plays the daughter of a murdered psychoanalyst who enlists a former patient, Boyd, to find his killer.

Charles Crichton directed a dialogue-heavy script, but the scenes with Boyd and the daughter are light enough to counterbalance it. Patricia Neal filmed all her scenes as another patient / suspect, but was completely omitted from the film during editing.
Artist: Tom Beauvais (with possibly some input from Tom Chantrell)

Condition: VERY FINE

Cast: Paul Rogers, Peter Sallis, Freda Jackson, Judi Dench, Nigel Davenport, Charles Lloyd-Pack.
---