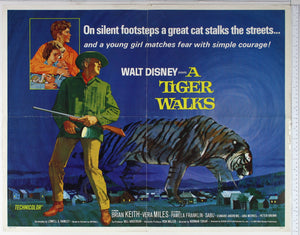 Horror Poster Emporium
Tiger Walks (1964) US 1/2 Sheet Poster
Regular price
£35.00
£0.00
Tax included.
After her performance in The Lion (1962) Pamela Franklin began a short-lived animal film phase, with Flipper's New Adventure (1964) and this, both for Walt Disney. A straight children's drama, it has Franklin as a sheriff's daughter, the lone voice of compassion for an escaped tiger hiding in the woods near a small town. She lobbies to have the animal captured and placed in a zoo, so it's a race to see whether she and a tiger trainer can get to it before the National Guard.
Pamela was working again with animal trainer Ralph Helfer, who'd brought up Zamba, her co-star in The Lion. Raja the tiger was played by Serang and Sultan, winning a PATSY Award for the film. The trainer in the film played by Sabu - famous for Elephant Boy (1937), The Thief of Bagdad (1940) and Black Narcissus (1947) died shortly before the film was released aged just 39.
Condition: VERY GOOD / FINE - small edge dinks, creasing on shiny paper stock.

Cast: Brian Keith, Vera Miles, Pamela Franklin, Sabu, Una Merkel, Arthur Hunnicutt
---