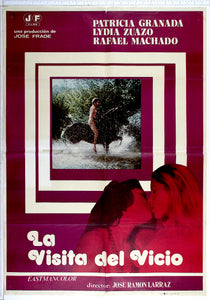 Horror Poster Emporium
Violation of the Bitch (1978) Spanish 1 Sheet Poster
Regular price
$46.00
$0.00
Tax included.
Despite the title, this erotic dream-like film is more tell than show. For the grubby raincoat brigade, José Ramón Larraz's tale of a bisexual painter coming to grips with her sexuality, while in thrall to a recurring dream of a naked horseman who ravishes her, is, incredibly, rather too tasteful to work. Hoping to take advantage of loosening censorship following the death of General Franco, it's a beautifully shot film by Fernando Arribas - The Blood Spattered Bride (1972), Open Season, And Then There Were None (both 1974) - but ultimately a lesser example of Euro-erotica.

Aka: The Coming of Sin / Sodomania
Condition: POOR / GOOD - centre crossfold separation, tears and slight paper loss to top and bottom centre vertical folds, at rear, small tape pieces to centre horizontal fold and behind pinholes top left and right.

Cast: Patricia Granada, Lidia Zuazo, Rafael Machado, David Thomson - The Spikes Gang (1974), China 9, Liberty 7 (1978), Montserrat Julió - The Blood Spattered Bride (1972), A Candle for the Devil, Horror from the Tomb (both 1973), Robin and Marian (1976).
---