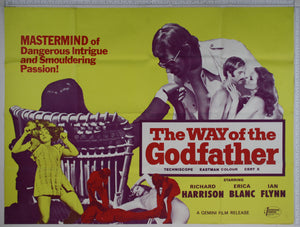 Horror Poster Emporium
Way of the Godfather (1972) UK Quad Poster
Regular price
£35.00
£0.00
Tax included.
Egyptian born director Frank (Farouk) Agrama played hard and fast, specialising in international production deals that made him a lot of money and left investors scratching their heads as to where exactly the profits went. He was trammeled up in a tax evasion trial with Silvio Berlusconi, and although found guilty, served no jail time. He went on to direct Queen Kong (1976) and Dawn of the Mummy (1981), but is best known for producing the Robotech and Lensman series, as well as this blaxploitation classic.

Aka: L'amico del padrino, The Godfather's Friend, Hand of the Godfather, L'ordre de la violence, Revenge of the Godfather
Condition: FINE - the lines at the bottom of the picture elements are clumsy photomontage, not tears
Cast: (despite the poster credits, Ian Flynn does not appear!) Richard Harrison, Erika Blanc, Krista Nell, Tina Braun and prolific Turkish actress Figen Han.
---