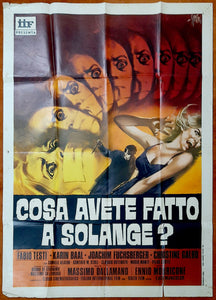 Horror Poster Emporium
What Have You Done to Solange? (1972) Italian 2 Foglio #New
Regular price
$71.00
$0.00
Tax included.
Massimo Dallamano's giallo classic was an Italian and German co-production, nominally based on an Edgar Wallace mystery to encourage German krimi fans to see it. It has a deserved reputation for its visuals and plotting, with the violence against women extreme even for the time. Dallamano continued his 'schoolgirls in peril' theme with What Have They Done to Your Daughters? (1974) and Red Rings of Fear (1978).
Aka: Cosa avete fatto a Solange? / The School That Couldn't Scream / Who's Next?
Condition: FAIR : vertical fold separation bottom right from edge to question mark of title.
Cast: Fabio Testi, Karin Baal - The Dead Eyes of London (1961), Camille Keaton (in a mute role) - her debut, after which, I Spit on Your Grave (1978), The Concrete Jungle (1982), The Butterfly Room (2012), Joachim Fuchsberger, Cristina Galbo.
---