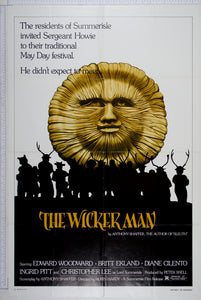 Horror Poster Emporium
Wicker Man (1973 - R78) US 1 Sheet Poster
Regular price
£250.00
£0.00
Tax included.
US 1st general release poster - In 1974, Warner Brothers ran a truncated drive-in cut in a set of shows between May and August, then took it off release. It languished until 1977, when Abraxas bought the U.S. rights, restored some of the removed footage (using material from an early print in the hands of Roger Corman) and unsuccessfully tried to entice theatre owners to show it.
In 1978, Summerisle Films sub-leased this version from Abraxas, and gave it a limited release in late 1978 / 79. This poster is from that first general theatre release.
Summerisle Films went bust in 1979 and Dynamite Entertainment and Abraxas gave the film a wider re-release in 1980 (which is an identical artwork version, but with The Boston Globe quote rather than this tagline).

Condition: VERY FINE / NEAR MINT
Cast: Edward Woodward, Christopher Lee, Diane Cilento, Britt Ekland, Ingrid Pitt, Lindsay Kemp
---